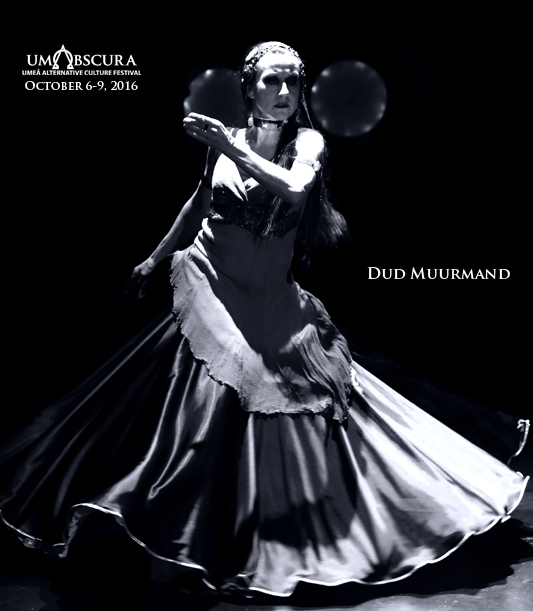 Dud Muurmand is one of the Danish dance pioneers within all things tribal, theatrical and dark! She has been teaching dance and performing professionally since the early 1990s. She has worked artistically with many different styles of ethnic dance: Gypsy fusion /Romani dance, Bellydance, American Tribal Style®, Tribal Fusion, Burlesque/Cabaret styled fusion and Dramatized/Theatrical dance. In 2010, Dud became a Certified ATS™ teacher also.
Before dance, there was theater and drama – from a young age, Dud's interest in the theater lead her through acting classes, theater schools and cabaret productions. This interest has followed into her dance and have formed her artistic expression significantly.
Her personal interest in the dance also includes the historical aspect and the thrill of an artistic molding of the past with the future. Her early dance years were strongly influenced by teachers like Wendy Buonaventura (UK), Helene Eriksen (DE/US) and Mahmoud Reda (Egypt) which founded her traditional dance background within Baladi and Ghawazee dance styles. And soon she also started exploring the Romany dance styles, studying with gypsy dancer Liz True (DK).
Besides being an experienced teacher and performer, Dud is also the troupe director of the Danish fusion dance group: "Tribe of Gaia", and have through the years trained and directed more local groups within both fusion style dance as well as ATS® performance groups.
She is the chairwoman of Tribaldance Denmark, organizing events like "DARK Weekend Copenhagen" (dark theatrical fusion dance) and "TRIBAL CAFÉ Copenhagen" (open dance community events) and she has since 2011 organized and produced her own summer training intensive,  "Tribal CPH" that draws international participants to Copenhagen.
Dud frequently makes guest appearances as a teacher and performer at international festivals in Norway, Sweden, Germany, England and in the US. In Copenhagen she also performs in alternative burlesque and cabaret productions
She has instructed and produced several of her own dance theater projects over the years—both traditional stage productions and also experimental webcasted performances (Cyber Gypsy I and II), that have been supported by the Danish Art Council.
The dark side has always followed with Dud's artistic work especially within the gypsy and tribal fusion dance. From early on her dance style has been influenced by the theater, utilizing both visual effects and strong emotional interpretation. Her darkest inspirations come from teachers like Ariellah (USA) and Callisto (Sweden) – and there is no doubt her intensive and continued training with especially Ariellah, Sharon Kihara, Samantha Emanuel plus  Beata & Horacio Cifuentes have made a great impact on her fusioned dance style. Dud continues to study and believe in constant growth in skills and artistic expression.