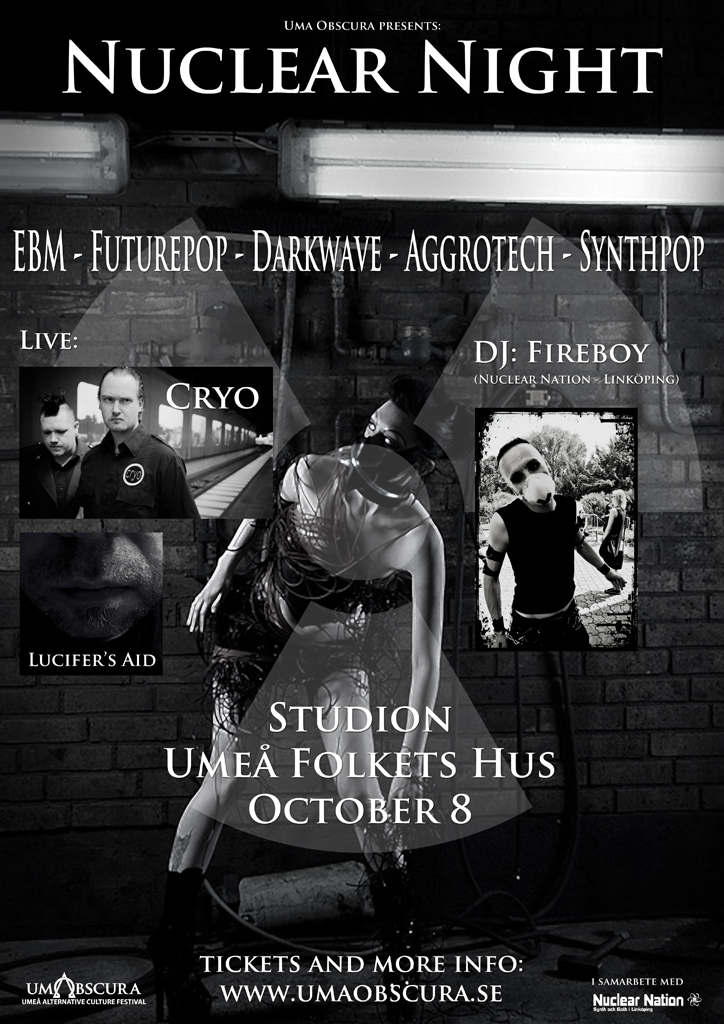 Heavy, raw and danceable. The music of the modern electroscene is flooding with new genres and artists. DJ Fireboy from Nuclear Nation is keeping track of the latest and the oldies and will serve you a blend of the best on the dancefloor at Uma Obscura.
Enjoy live performances by Cryo and Lucifer´s Aid, get dressed for a night out to the apocalyptic soundscapes of the future. Welcome to Nuclear Night at Studion, Folkets Hus during Uma Obscura.
Stats:
Genres: Futurepop, Aggrotech, Darkwave, Synthpop
"I love to play and dance. I am a very sociable and like to experiment with music."
Favorite artists: Blutengel, Neuroticfish, X-RX, Apoptygma Berzerk.
From Linköping. Member of Linköping synth-club Nuclear Nation.
facebook.com/fireboymusic
Uma Obscura
Saturday October 8
Lördag 8 oktober
Venue: Studion, Umeå Folkets Hus
Tickets: Uma Obscura festival ticket.
Bar area with age limit: 18
Presented in cooperation with Nuclear Nation.