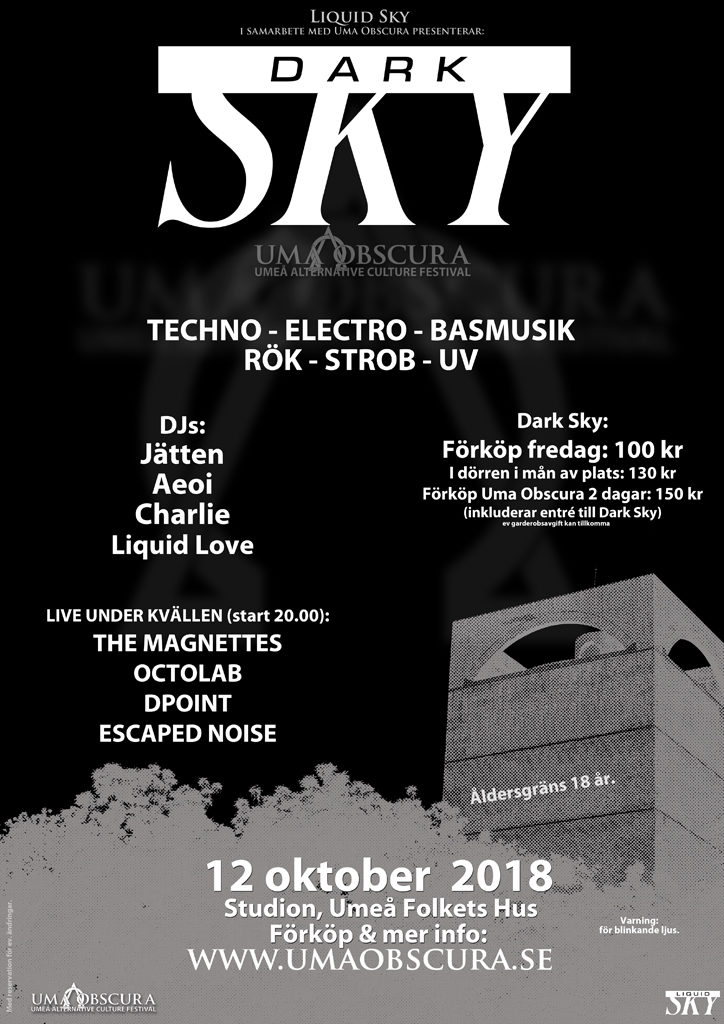 After a summer with open air and sunshine we are now being engulfed by the compact darkness of the northern winter season approaching… We are following the seasons and embracing our dark side.
Liquid Sky in collaboration with Uma Obscura proudly presents Dark Sky. We want to give you what you have been begging for this time of the year at our events: Dark and hard Techno, Electro  and Bass music. So regardless if you are a Berghain newbie, a hardcore Liquid Sky follower or an O.G. eighties clubber with an eyeliner to kill for, can we promise you a great a sweaty night.
Please note: Since we want to have enough space for people to be able to really let loose on the dancefloor, we will be having a limited amount of tickets! We highly recomend that you buy your ticket a.s.a.p. to be sure that you will get in. And bring Comfortable shoes.
And just as on any Liquid Sky event does Dark SKy have a Zero tolerance against sexism, rasism, homo/trans-fobi, alterophobia and shitty attittudes in general. Tell the guards or us if for some reason there is someone at the event that is acting threating against you.
Dark Sky is held Friday October 12 as a part of the Uma Obscura Festival.
DJs:
Jätten
Aeoi
Liquid Love
Charlie
Live bands during the evening (from 20.00):
The Magnettes
Octolab
Dpoint
Escaped Noise
_________________________________
Efter en sommar med rekordmycket solsken och skogsfester så slukas Norrland nu av vintermörkret. Vi följer årstiderna och bejakar den mörka sidan…
Liquid Sky i samarbete med Uma Obscura presenterar Dark Sky. Där vi vill ge er det som ni bönat och bett om att få  på fester den här tiden på året på våra fester. Mörk och hård Techno, Electro och Basmusik kombinerat med en fet strobb och en kompakt vägg av rök! Så oavsett om du är en nyligen techno-frälst Berghain turist, en Liquid Sky-stammis eller en övervintrad syntare med en skarp eyeliner så kan vi lova dig en härlig och svettig kväll.
OBS: För att det ska finnas plats att verkligen släppa loss på dansgolvet så har vi begränsat antalet biljetter, så förköp din biljett redan nu så att du är säker på att du kommer in och ta med dig dansvänliga skor.
Precis som på Liquid Sky har vi som arrar Dark Sky nolltolerans mot sexism, rasism, homo/trans-fobi, alterofobi och trakasserier överlag. Säg till oss eller vakter om någon mot förmodan beter sig hotfullt eller kränkande emot dig.
Dark Sky går av stapeln fredag 12 oktober som en del av Uma Obscura-festivalen.
DJs
Jätten
Aeoi
Charlie
Liquid Love
Liveband under kvällen (start 20.00):
The Magnettes
Octolab
Dpoint
Escaped Noise
Kompiskortet
Liquid Sky är anslutna till Kompiskortet! Det innebär att du med Kompiskort går två personer till priset av en på alla Liquid Skys arrangemang. På facebookeventen inför arrangemangen skriver Liquid Sky ut hur lokalerna ser ut och vem du kan ringa om du har frågor. För mer information om tillgänglighetsanpassning på Dark Sky, kontakta Liquid Sky på: 070 635 78 05 (Erik E)
mail:  xbase0(a)gmail.com
eller skicka ett meddelande på facebook
www.facebook.com/LSKY303
mer info:  www.umea.se/kompiskortet