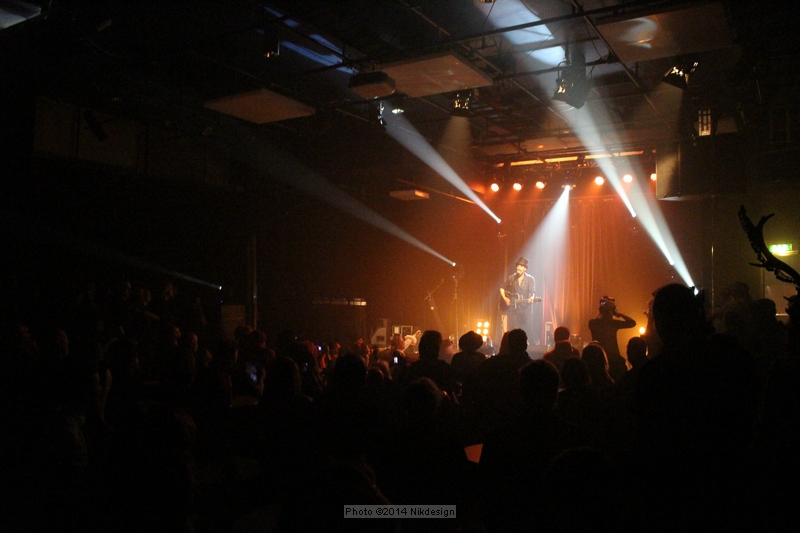 Uma Obscura is the alternative culture festival of Umeå. It used to be called Sunset Park festival. After 6 years of outdoor festival style the festival moved indoors to Umeå Folkets Hus, in September 2014. It has been held yearly up until 2014, then paused for 2015 to return in 2016, paused 2017 and continued 2018.
Uma Obscura is a culture festival, celebrating subculture movements. The festival has it all: music, dance, film, club, performance, art exhibitions, lectures and seminars, market and so on.
Uma Obscura posters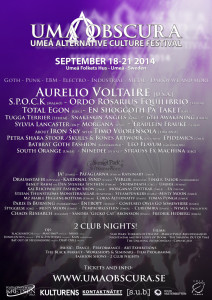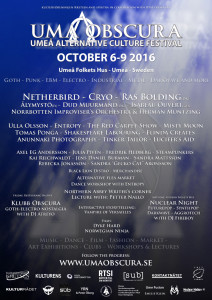 During the years we have had the hounour of having these guests & features:
Wayne Hussey, Ras Bolding, Netherbird, Älymystö, Dud Muurmand, Isabeau Ouvert, Cryo, Lucifer's Aid, Shakespeare Labouring, DJ Fireboy, DJ Atreyo, The Red Carpet Show, Katarina Klingberg, Norrbotten Improviser's Orchestra, Spark!, Vampire of Versailles, Norwegian Ninja, Dyke Hard, Northern Abbey Writer's Workshop, Mechatronic, Alternative Flea Market, Petter Nallo, Anunnaki Photography, Jens Gustavson, Axel EG Andersson, Black Lion Records, Elinda Creates, Hanna Rindeskog, White Birches, Jens Daniel Burman, Julia Pivén, Rebecka Jonasson, Sandra Mattsson, Anna Öberg & Härsk, Covenant, Malaise, Two Witches, Chaos Research, Asperger Synthdrome, Knekt, Page, Dawn of Oblivion, The Litsos, Ulla Olsson, Jonny and the Primates, Håkan Wikell, Kammarheit, Zonaria, Waves Under Water, Den Akustiske Alkemisten, Rest In Silence, Red Butt Closeup, Arcana, Blastromen, Månegarm, Project-X, The Forever Season, MagaLacrima, Hysterica, Ye Banished Privateers, Diskoteket, Morlocks, Death Maze, Ignite, Ninedee, Vergil, UPDC – Unpretty Dance Crew, You Are Not Alone – art exhibition, Pierre Colling, Halcyon, Andreas Wandegren, Helvetets Port, Alice In Videoland, krAa Fusion & marlen sunna, The Mist of Avalon, Electricution,  EMP – Songs from Fire & Ice, Semira Frost, Vayola Heart, Emmalie Västman, Jonas Lundström, Live Elephant, Saturn Dance Crew,  Summoned Tide, FireBirdFusion, Aron Hidman & Mariel Rosendahl, Lady Rivet, "Tillfälliga Störningar, Exempelvis Ljud",  Julia Pivén, Lisa Lundgren, Morganas Döttrar, Elin Kåven, Midnattssol, FireBirdFusion, Lina Forsberg, Tomas Näslund och Maria Höglund, Misty Moon, Jamo Jamo Young, Aida Meherani, Naggar, Golnosh, SU-EN, Tomas Ponga, Räf Design/Denise Mångsén, Erik Torstensson, Jenny Renling, Marcus, Glenn Edberg, Helena Ulfsdotter, Fredrik Hedberg, Evelina Larsson, J.E. Alexis, Kai Reichwaldt, Y. Lundberg, Ida, Peter Mollwing, Mia Falk, My, Petra Shara Stoor/Skulls & Bones Artwork, Leo Flavum, Steampunkers, Scorpid Leather, Johan Holmlund, Petter Ottosson, Action Art, Coras Alternativ, Cecilia Lindblad, Maria Lundström, Linnea Holmström Ljung, Five Portals, Living Night Design, Techdoll, Naucler Design, Veil of Visions, Machine Ain't Dead Design, Sin Weaver, Tomas Ponga, EMP, Umeå Hung Gar Kwon, Cemi Istari, Capoeira Bótnia, Sunset Parade, Martin Ericsson, Sylvia Lancaster, Peter Kagerland, Kunskapens Pris, Dohee Kim, Now Law 4000, DJ Briseis, DJ Hasse Newton, DJ Jenny Tentakler, DJ Comacat, DJ Sinsect, DJ Anders Muammar, DJ Kari Berg, DJ Coldtrack, DJ Eskil, DJ Jyrki Witch aka JW, DJ Jaana Zynthexia. DJ Maulwurf, DJs Club Greyscale, Star Wars – Threads of Destiny, Marco Polo (Blindpassasjer), Nightsatan and the Loops of Doom,  Sally Steampunkers, The Shadow Out Of Time, Nördar i Norr, The Unliving (Återfödseln), Connected, Thomas Kieselbach, Stefan Thunströms Monsternallar, Sandra "Gecko Cat" Aronsson, Confused Owls Go Somewhere, Coras Alternativ, Kai Reichwaldt, Curiomira (Jacob Petersson), Tinker Tailor, Ratsinart, Nymla, Batbrat, Ambjörn Photo, JA!, Kardinal Synd, Epidemics, Geson Rathnow, Snakeskin Angels, Stormdeath, Ordo Rosarius Equilibrio, 6:th Awakening, Strauss Ex Machina, Draumstafir, Tugga Terrier, Total Egon,  Styggelse, Paris Is Burning, Aurelio Voltaire, S.P.O.C.K, Pumpaorkestern, South Orange, Batbrat Goth Fashion, Kai Reichwaldt Modevisning, Fräulein Frauke, Påfåglarna, Umbra, Ea, Mz Mable Higgingbottom, Paradise of Fantasy, Entropy, Morgana, DJ Adora BatBrat, Timo Vuorensola, Bengt Rahm, En Shoggoth På Taket/Showgoth, DJ Innocentius, DJ Bat out of Helsingborg, DJ Dead Doll, DJ Kain, DJ Mirre, DJ Slackerbitch, DJ Martin69.
Artistic Directors:
2010: Kai Reichwaldt
2011: Peter Mollwing
2012: Lina Reichwaldt
2013: Madeleine Holmlund
2014: Nik, Peter Öberg, Madeleine Holmlund and more.
2016: Nik, Peter Öberg/Ola Ågren, Madeleine Holmlund, Tomas Ponga, Sanna Rundblad, Kari Berg, Emelie Klein.
2018-1: Nik, Madeleine Holmlund, KF Blackbird/Tomas Ponga/Sanna Rundblad, Föreningen SNÖ/UPDC, Emelie Klein.
2018-2: tba