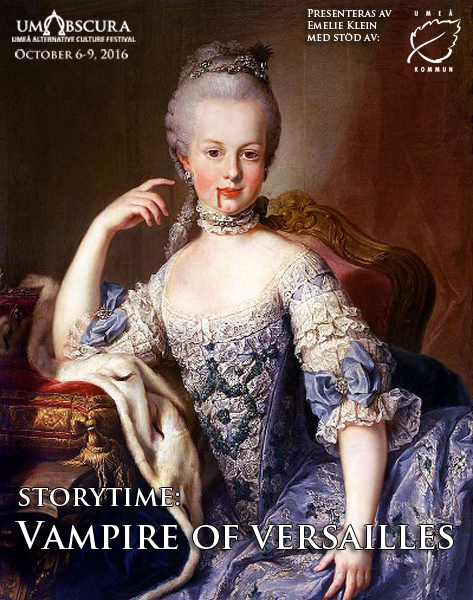 "The people have no bread? Then let them drink blood!"
It is October 1789 and Louis XVI has been forced to Paris together with his family by a revolutionary mob. The palace of Versailles, bereft of its master and most of its residents, stands as a decadent tombstone in memory of a time gone by. But some refuse to see the beginning of the end. A handful of aristocrats remain in the palace, drowning their concerns with wine and festivities as if their world was not crumbling around them.
You have been invited to the palace by your rich and noble friend, but the very next morning a lady is found mysteriously dead in her room with bite marks on her neck and an ominous promise of more killings written in blood over her wall. Can you find the murderer before Versailles is drained of all life?
Storytime: Vampire of Versailles is a tale delivered through a fusion between traditional storytelling and interactive games. The audience is invited to make the choices at select points of the story, creating a unique immersive experience.
"Folket har inget bröd? Så låt dem dricka blod!"
Året är 1789, månaden oktober, och Ludvig XVI har tvingats till Paris tillsammans med sin familj av en revolutionär mobb. Slottet Versailles, berövat av sin mästare och de flesta som bodde där, står som en dekadent gravsten till minne av en svunnen tid. Men vissa vägrar se början på slutet. En handfull aristokrater kvarstår i palatset och dränker sina sorger i vin och festligheter som om världen ej rämnade kring dem.
Du är inbjuden till palatset av din rika och ädla vän, men nästa morgon hittas en dam som dött under mystiska omständigheter, med bitmärken på hennes hals och ett förebådande löfte om fler mord skrivet i blod över hennes vägg. Kan du hitta mördaren innan Versailles dränerats på allt liv?
Storytime: Vampire of Versailles är en berättelse som levereras via en blandning mellan traditionell berättande och interaktiva spel. Publiken bjuds in till att fatta besluten vid utvalda punkter i historian, vilket skapar en unik inlevelse och upplevelse.
SPRÅK: Engelska.
Presenteras av Emelie Klein med stöd av Umeå Fritid.