Here is the program for Uma Obscura – in Swedish: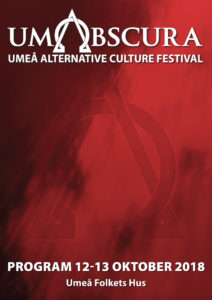 Ladda ner programmet:
enkelsidigt
dubbelsidigt
Ladda ner utskriftsversion.
Endast tidsprogram (svenska):
Program
_________________________
Time schedule, program in english:
Program – ENG
You can also have a look at the various artists that will be part of Uma Obscura Autumn, October 12-13 2018 here on the site in the program section. Presentations in English and Swedish.