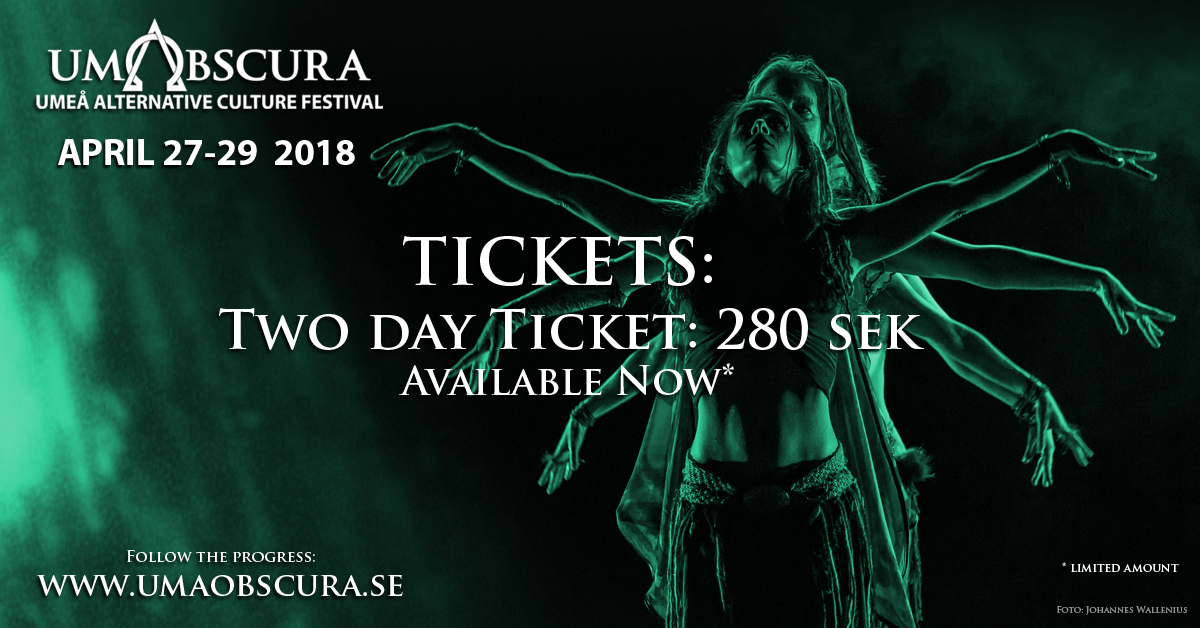 UMA OBSCURA 2018 – INFORMATION OCH PRISER
English version, please scroll down.
KÖP BILJETT
Förköpet har nu stängt.
Biljetter kan köpas för 240:- i entren till festivalen på folkets hus.  Gäller ej till söndagens workshops med separat anmälan och avgift.
Ev. garderobsavgift tillkommer.
Foto
Filmkameror är ej tillåtna utan särskilt tillstånd.
Systemkameror och avancerade kameror och optik med starka zoomlinser får inte medhas utan tillstånd/fotopass.
Foto med blixt är förbjudet under framträdanden.
Mer information och allmänna villkor – klicka här.

______________________________________________________________________________
Tickets for Uma Obscura 2018 are now released.
INFO AND PRICES

Venues:
Friday April 27: Balder (Skolgatan 58A) Age limit: 18.
Saturday April 28: Umeå Folkets Hus (Skolgatan 59)
(age limit – 18 years – only for bar areas)
TICKET INFO
We currently only have tickets on sale for Saturday.
Saturday 12-17, Umeå Folkets Hus: Free admittance
Saturday April 28, Umeå Folkets Hus (opens 18.00): Doors: 240 SEK
Sunday April 29: Seperate fee for dance classes.
Please note that some areas and some events in the programme has an age limit of 18.