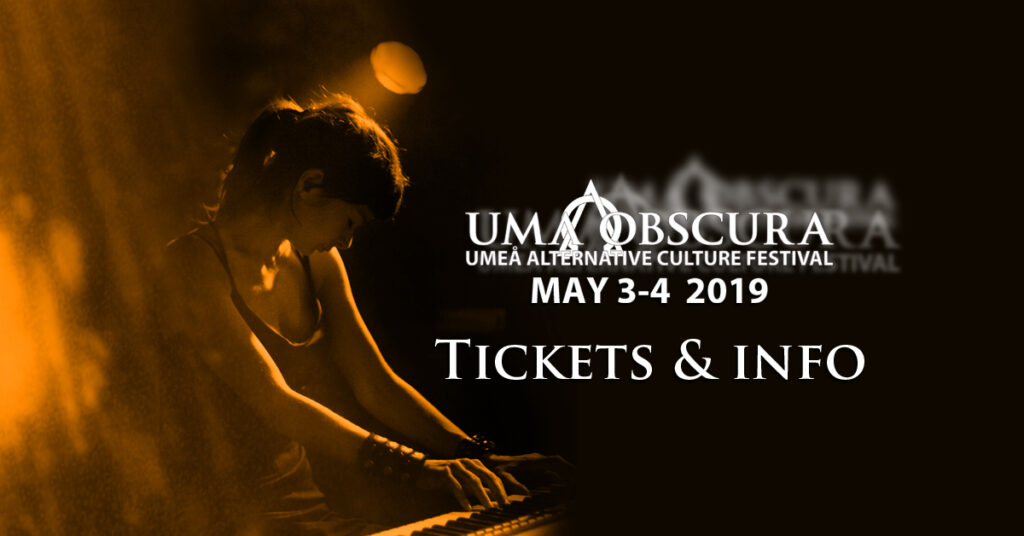 UMA OBSCURA 2-4 MAJ 2019
– INFORMATION OCH PRISER
For info in English, please scroll down.
Tvådagarsbiljett: 200 kr
Fredag 3 maj: 130 kr
Lördag 4 maj: 120 kr
KÖP BILJETT

Notera att datum och tid på biljetterna avviker mot faktiskt schema. Se programmet för korrekta tider.
Workshop: Vapendans:

Sorry. No events to display.
Important: The workshop is moved to Sat, May 4. Read more.
Workshop: Witch Drum Circle

Sorry. No events to display.
Biljetter för festivalen kan även köpas – i mån av plats – i entrén till festivalen på Umeå Folkets Hus och Restaurang Balder. Detta gäller ej till vissa workshops vilka har separat anmälan och avgift.
Priser i dörren är:
Tvådagar: 250 kr
Fredag 3 maj: 150 kr
Lördag 4 maj: 150 kr
Endast klubbkväll, Balder 3 maj i mån av plats: 100 kr
Ev. garderobsavgift tillkommer.
Vissa programdelar har 18 års åldersgräns. Se program.
Foto
Filmkameror är ej tillåtna utan särskilt tillstånd.
Foto med blixt är förbjudet under framträdanden.
Systemkameror och avancerade kameror och optik med starka zoomlinser får inte medhas utan tillstånd/fotopass.
Mer information och allmänna villkor – klicka här.

______________________________________________________________________________
Tickets for Uma Obscura 2019 are now released.
PROGRAMME
See program sheets for more info on venues, times and artists .
TICKET INFO
We recommend using our online booking system to book your tickets in advance. For your convenience we use PayPal for payments.
Workshop: Sword Dance:

Sorry. No events to display.
Workshop: Witch Drum Circle

Sorry. No events to display.
PRESALE TICKETS:
Two-day (MAY 3-4): 200 SEK
Friday May 3: 130 SEK
Saturday May 4: 120 SEK
Tickets will also be available at the venue :
Two-day (May 3-4): 250 SEK
Friday: 150 SEK
Saturday: 150 SEK
Only Club Obscura, Balder, Friday May 3: 100 SEK

There is a limited amount of tickets available.
Please note that some areas and events in the programme has an age limit of 18.

Tickets do not include workshops. Workshops have separate fees.