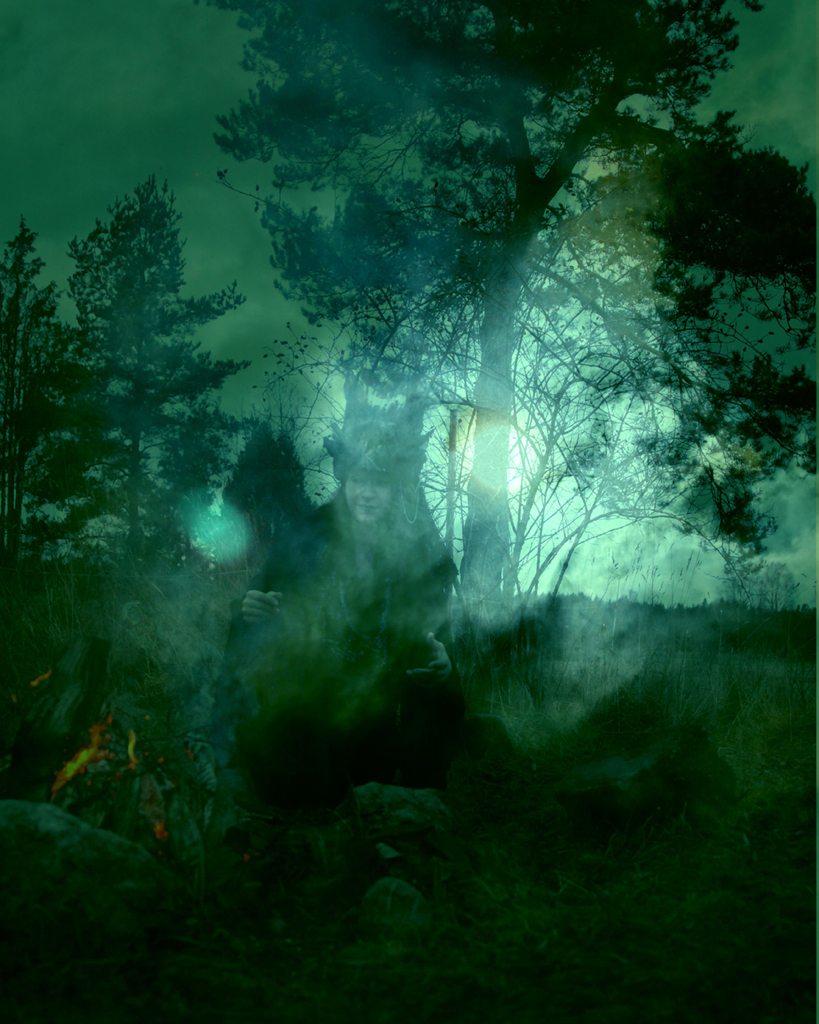 VÅRBLOT
In the summer of 2014 in the forests of Uppland Sweden, Madeleine Holmlund and Marlen Sunna met at a SU EN Butoh Company Summer Camp. Friendship arose and ideas about working together as dancer and musician became the origin of the collaboration now presented at Dance Obscura 2018:
VÅRBLOT – a bassist and a dancer on a stage in a dance act where the soundscape is the wing of the bass pulse that gives life to movement.
krAaFusion is the new artistic project from Madeleine Holmlund  that is under development. It was born in a desire, based on her dance background in Oriental dance, different styles in Tribal fusion bellydance and ATS, to express motion and create dance in her own way. krAa is her artistic inspiration and freedom.
Madeleine is originally from Umeå but has now settled in Uppland since 2017. She was one of the creators of the dance group Morganas döttrar  and was a member of the dance groups Midnattssol and Misty Moon until 2017.
As a member of the Cultural Association Kretsen in Umeå, Madeleine has been part of the development and has been the artistic director of the dance program "Dance Obscura" at the Uma Obscura-festival and its predecessor "Dance in the shadows" at Sunset Park Festival.
marlen sunna has a past as a bassist in Bazooka! from Gothenburg. The band gained great success during the 90's. Bazooka! was most famous for its energy-filled gigs and was one of the most hardcore, powerful Swedish "all-girl" bands.
Marlen Sunna has also worked as a stage technician and has a 30-year career as a bassist. She has participated in workshops in SU EN Butoh Method at Haglund School and during that time participated in the dance performance projects Body garden and Voracious, choreographed by SU EN, 2015, 2016. Today she plays bass in two bands, including Loudmouth from Falun.
The bass i crucial in Marlens creative compositions, the rhythm and pulse is the heart of the music. When she plays the bass, she always plays till her fingers bleed. Marlen works hard to place herself  in the music world. It is a very important issue for Marlen. "I can not stop playing, though I might want to sometimes.  I have to continue for the sake of all of us female musicians out there," she says.
__________________________________________________
VÅRBLOT
Sommaren 2014 i Upplands skogar träffades Madeleine Holmlund och Marlen Sunna på SU EN Butoh Company's Summer Camp. Vänskap uppstod och idéer om att skapa tillsammans som dansare och musiker blev upprinnelsen till samarbetet som nu presenteras på Dance Obscura 2018: VÅRBLOT- basist och dansare på scen i en särpräglad dansakt där ljudlandskapet blir kulissen till baspulsen som ger rörelsen liv.
krAa fusion är Madeleine Holmlunds nystartade konstnärliga plattform som är under utveckling. Detta föddes i en längtan att utifrån Madeleines dansbakgrund inom orientalisk dans, olika stilar i tribal fusion bellydance och ATS få uttycka rörelse och skapa dans på sitt vis. krAa är hennes konstnärliga inspiration och frihet.
Madeleine är ursprungligen från Umeå, nu bosatt i Uppland sedan 2017. Hon var en av skaparna av dansgruppen Morganas döttrar och var medlem i dansgrupperna Midnattssol och Misty Moon fram till 2017.
Under de tre senaste åren har Madeleine även deltagit i workshops i SU EN Butoh Method på Haglund skola och under den tiden även deltagit i dansföreställningsprojektet Voracious koreograferat av SU EN 2015, 2016 och 2017,
Som medlem i kulturföreningen Kretsen i Umeå har Madeleine varit en del av utvecklandet och konstnärlig ledare för dansscenen på Uma Obscura – Dance Obscura och dess föregångare Sunset park festival – Dans i gränslandet.
marlen sunna har ett förflutet som basist i det Göteborgsbaserade bandet Bazooka! Bandet rönte stora framgångar under 90-talet. Bazooka! var mest kända för sina energifyllda spelningar och var ett av de mest hårda, kraftfulla, svenska "all-girl"-banden.
Marlen har även arbetat som scentekniker och har en 30-årig karriär som basist. Hon har deltagit i workshops i SU EN Butoh Method på Haglund skola och under den tiden även deltagit i dansföreställnings- projekten Body garden och Voracious, koreograferat av SU EN, 2015, 2016. Idag spelar hon bas i två band bland annat Loudmouth från Falun.
Basen är alltid det centrala i Marlens musikskapande. Rytmen och pulsen är hjärtat i musiken. Hon spelar alltid så att fingrarna blöder.
Marlen jobbar hårt med att ta mer plats i musikvärlden. Det är en mycket viktig fråga för Marlen. " jag kan inte sluta spela fastän jag kanske skulle vilja för jag måste fortsätta för alla oss kvinnliga musiker därute" säger hon.