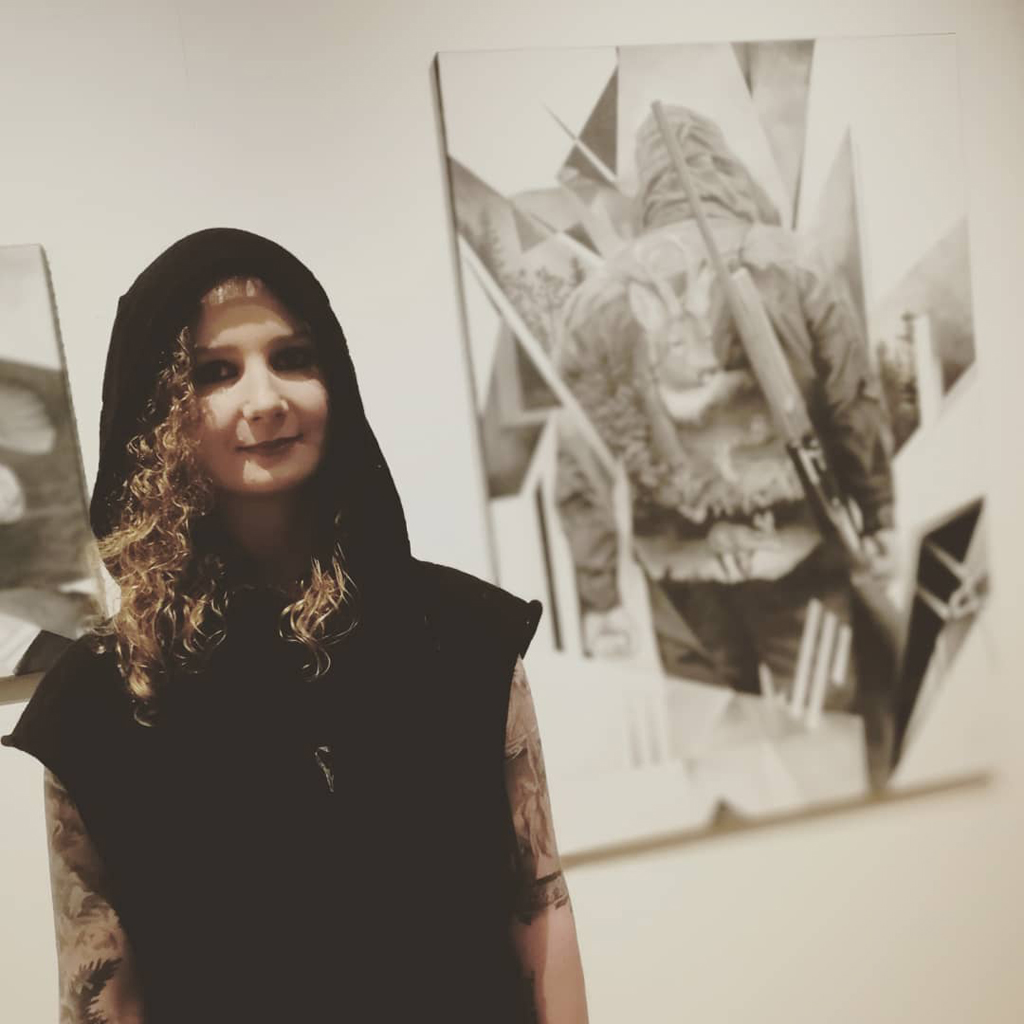 Rebecka Jonasson creates her art with inspiration from nature and forest. The expressions comes in form of acrylic paintings, photos, digital media, text and tattoos. She invites the spectator to get a vision of a world full of energy and natures calmness. Freedom!
"An early summer morning, the haze lies like a veil over the world and every breath cleanses you. A sunny autumn day, the summer heat has escaped and been replaced by a clear and chilly air that lifts you up with its breeze.
Every step in the soft moss fills your energy, the inner strength that is needed in order to create. The birds sing for you, here there is no sound of traffic. No ringing phones or sirens that scream. It´s just you and the nature.
That is how it is for me, it is in the forest, surrounded by nature where I get inspired. It is a world of tranquility, a world that exists parallel with the constant stress we live in. Among the trees nothing is demanded. The only thing that matters is the present.
My work includes acrylic paintings, photography, digital media, texts and tattoos. Art is fluid, there are so many ways in which to be creative. I try to reproduce the impression that I get from nature in my work. By not limiting myself to one material grants me the opportunity to reflect this impression and maybe even give a piece of it to you. A small piece of freedom."
___________________________________________
Rebecka Jonasson skapar sina verk med inspiration från naturen och skogen. Uttrycken kommer i form av akrylmålningar, foto, digital media, text och tatueringar. Hon bjuder in åskådaren att få en bit och en syn av en värld av energi och lugnet av naturen. Friheten!
"En tidig sommarmorgon, disen ligger som en slöja över världen och andetagen renar hela dig. En solig höstdag, sommarens hetta har flytt, bytts ut mot en klar och kylig luft som lyfter dig med vindpustarna.
Varje mjukt steg i mossan fyller på energin, krafterna som är så viktiga för att kunna skapa. Fåglarna sjunger för dig, här hörs ingen trafik. Inga telefoner som ringer eller sirener som tjuter. Det är bara du och naturen.
Det är så det känns för mig och det är just i skogen och naturen som jag hämtar inspiration. Det är en värld där lugnet härskar, en värld som går parallellt med den ständiga stressen vi lever i. Det finns inga måsten eller krav ute bland stammarna. Bara nuet.
Mina verk inkluderar akrylmålningar, foto, digital media, text och tatuering. Konst är flytande, det finns så många olika sätt att vara kreativ på och jag försöker återskapa den förnimmelse jag får av naturen i mina verk. Att inte begränsas till ett material gör att jag har större möjlighet att komma närmare den känslan och kanske även kan ge dig som åskådare en liten bit av den. En liten bit av friheten."