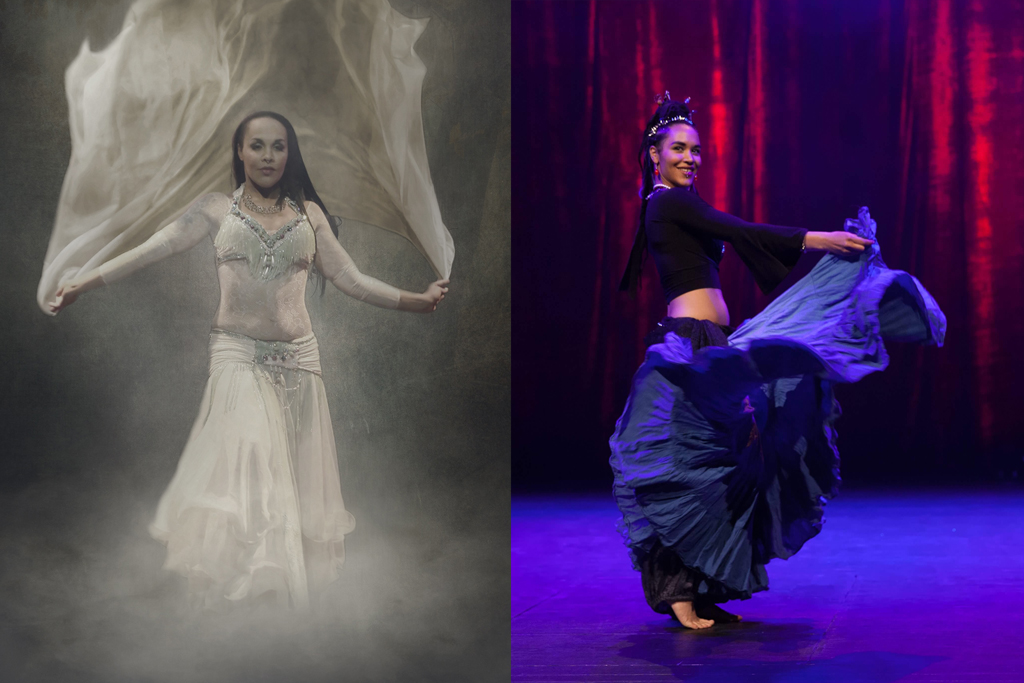 – the fusion freaks with a passion for the fun, flirty and dark
Vayola Heart and Semira Frost are dancers within fusion, now performing as a duo. The fusion sibling duo from Norway and USA consider themselves as fusion freaks passionately exploring and experimenting.
Being sisters they have a lot of the same musical interests, ranging from musicals, video games, opera and classical to various metal genres, rock and industrial.
Initially they were introduced to Egyptian and Oriental style belly dance. Shortly after they were introduced to Tribal and Dark Fusion and were fascinated by the theatrical interpretations,costuming and the allover expressive freedom,all of which continues to keep them captivated and inspired over a decade later.
Their inspirations include burlesque, jazz as well as the vulnerability and storytelling of contemporary style and Traditional Japanese and Chinese dance. Semira currently teaches Tribal and Oriental Fusion and both have performed in Scandinavia and USA. They continuously travel to different countries to study and further develop their dance repertoire. Their attraction to the fun, flirty and dark has inspired their first dance performance at Uma Obscura 2018.
_______________________________________
Vayola Heart och Semira Frost är dansare inom fusion och ska nu uppträda tillsammans som en duo för första gången. Syskonduon från Norge och USA betraktar sig som"fusion freaks" med en passion för det experimentella utforskandet.
Som systrar har de mycket gemensamt musikaliskt och tycker om allt från musikaler, videospel, opera och klassiskt till olika metal genrer, rock och industri.
Ursprungligen introducerades de till egyptisk och orientalisk dans och sedermera till tribal och dark fusion. De fascinerades av de teatraliska tolkningarna, kostymerna och det varierade registret av olika uttryck, som fortfarande över ett decennium senare håller dem fängslade och inspirerade
Semiras och Vayolas främsta inspiration hämtas från burlesk, jazz, den moderna dansens sårbara berättande stil och traditionell japansk och kinesisk dans.
Semira undervisar för närvarande tribal- och orientalisk fusion och båda systrarna har uppträtt i Skandinavien och USA. De reser regelbundet till olika länder för att studera och vidareutveckla sin dansrepertoar. Deras dragning till det glada, flörtiga och mörka har inspirerat deras första gemensamma dansframträdande som presenteras på Uma Obscura 2018!