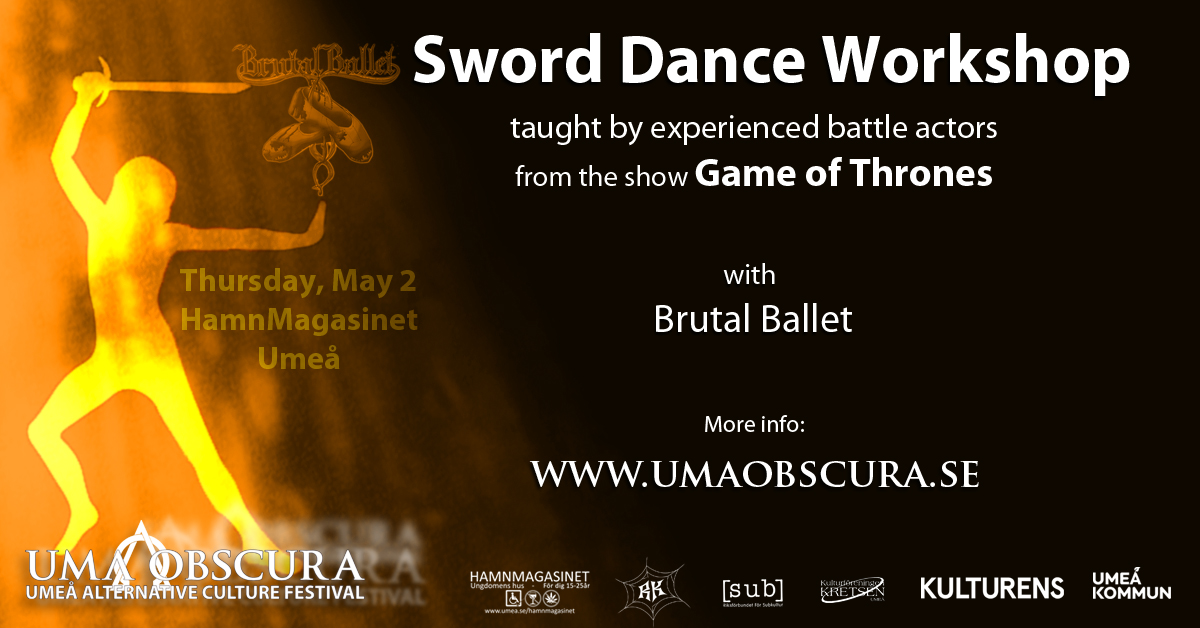 DUE TO THE SAS-AIRLINE-STRIKE THE WORKSHOP HAS BEEN RESCHEDULED TO :
SATURDAY MAY 4, 11.30-13.30
VENUE: MIKLAGÅRD, UMEÅ FOLKETS HUS.
(We also offer a refund of tickets if you cannot attend the rescheduled WS.)
The try out workshop from Thursday, may 2 at 8 pm is rescheduled to May 4, 4-5 pm, venue Miklagård, Umeå Folkets Hus.
***PREVIOUS TIME:
Thursday May 2.
5.30 – 7.30 pm
Venue: HamnMagasinet, Västra Strandgatan 4, 903 26 Umeå)
*****
Admission fee: 500 SEK
No previous experience required.
This class is taught by actual battle experienced spearwives who has appeared in Game of Thrones! The participants will be taught to wield a sword to a metal soundtrack and become the warriors they've always dreamt of being. This will be an introduction to Weapons Dancing in the Water Dancing style of Arya Stark. The workshop also includes a short Game of Thrones inspired performance by the teachers (Brutal Ballets weapons division).
You can bring your own swords, no sharp edges allowed.
_______________________
TICKETS:
[upcoming-events parent_id="3622″ meta="date,price" columns="date,title,price"]
_______________________
VIKTIG INFO!
PÅ GRUND AV FLYGSTREJKEN (SAS) HAR VI TVINGATS FLYTTA WORKSHOPEN TILL:
LÖRDAG 4 MAJ, KL 11.30-13.30
PLATS: MIKLAGÅRD, UMEÅ FOLKET HUS
(Om du ej kan närvara erbjuder vi pengarna åter för er som förbokat.)
Prova på-workshopen, Torsdag 2 maj kl 20 är flyttad till 4 maj kl 16, plats Miklagård, Umeå Folkets Hus.
(TIDIGARE DATUM/PLATS:
Torsdag 2 maj kl 17.30 -19.30
Plats: Hamnmagasinet)
Avgift: 500 kr.
Betalning=anmälan.
Språk: engelska
Inga förkunskaper krävs.
Träpinnar och motsvarande tillhandahålls på plats.
Egna svärd kan tas med, men ej med vass egg.
Deltagarna kommer att lära sig att svinga svärd till ett heavymetal soundtrack och blir den krigare som de alltid har drömt om att vara. Den här workshopen lärs ut av de stridserfarna spjutkvinnor som medverkat i Game of Thrones! Detta kommer att bli en introduktion till vapendans i vattendansstilen av Arya Stark. Workshopen inkluderar även ett Game of Thrones inspirerat framträdande av lärarna (Brutal Ballets weapons division).
Workshopen anordnas av KF Kretsen och Kulturens i samarbete med SUB och KF Roslagskretsen.
Presenteras i samarbete med HamnMagasinet och Umeå Kommun.
Under kvällen hålls även en prova-på workshop kl 20-21 för åldrarna 15-25 år.
______________________
Om Brutal Ballet:
Brutal Ballet was founded 2008 in Australia by choreographer Bridie Mayfield that wanted to mix classical ballet movements with Metal. The company is currently based in Belfast and the theatrical flair that was present from the beginning have grown and evolved. "We like to make the audience feel a little uneasy" as Bridie shared during an interwiev in with rockmetaldance.com
Today the company does not only do their signature Metal Ballet performances, they also do a lot of Fantasy inspired performances with Harry Potter or Game of Thrones themes. The Brutal Ballet weapons division also take part in actual battle scenes recorded for season 8 of GoT.
About Brutal Ballet:
Brutal Ballet grundades 2008 i Australien av koreografen Bridie Mayfield som ville blanda klassiska ballettrörelser med metal musik. Danstruppen är för närvarande baserat i Belfast och den teatraliska stilen som var närvarande från början har vuxit och utvecklats. "Vi gillar att få publiken att känna sig lite obekväma" säger Bridie i en intervju med rockmetaldance.com.
Idag gör danstruppen inte bara Metal Ballet-föreställningar, de gör också fantasy inspirerade föreställningar med Harry Potter eller Game of Thrones-teman. Brutal Ballets vapengrupp deltar också som statister i de faktiska kampscener som spelats in för säsong 8 i Game of Thrones.