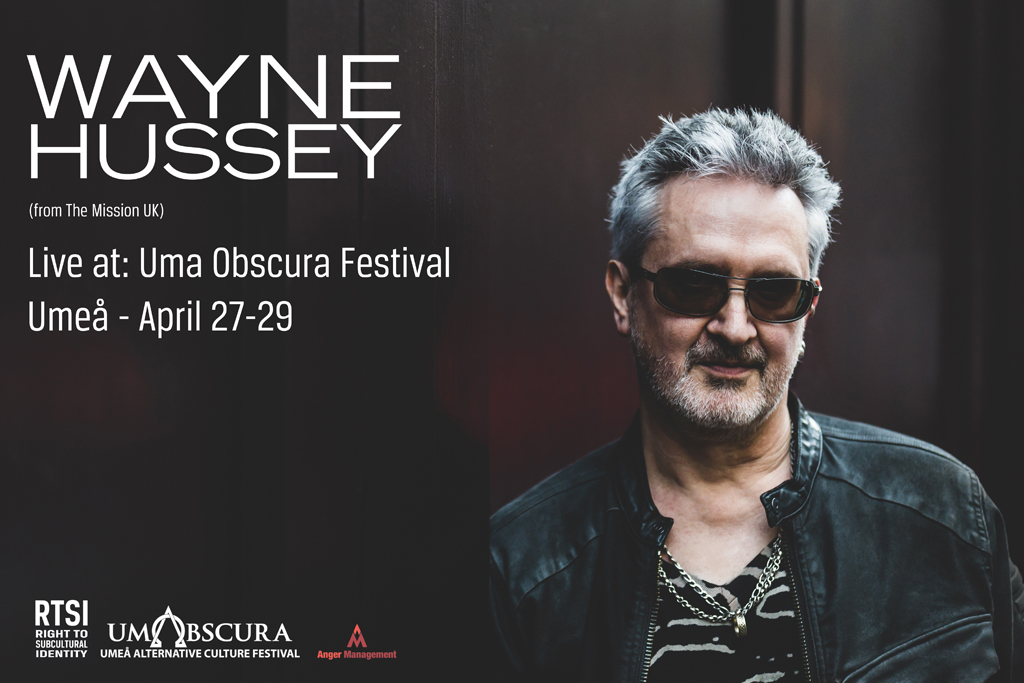 Wayne Hussey is perhaps most known for being the enigmatic front man of The Mission (UK), but also for having been part of The Sisters Of Mercy. Some may also recognise him from Dead or Alive. A long and excessive road has led Wayne to where he is today and one thing is certain about Wayne, he's certainly a divisive character.
In 2018 Wayne will do a number of selected solo shows in his "The Aniversário Tour" to celebrate his 60th Birthday and one of these performances will take place at the Uma Obscura Festival, on April 28.
Wayne's solo show is spontaneous and the set list is largely dictated by the involvement of the audience and will usually consist of new, intimate renditions of 'classic' and lesser known Mission songs, a smorgasbord of entertaining cover versions, and brand new never before heard songs.
The concert with Wayne Hussey at Uma Obscura is presented in cooperation with RTSI.
Wayne Hussey är troligen mest känd som frontfiguren i legendariska The Mission, men många vet också att han varit del av The Sisters Of Mercy samt spelat med Dead or Alive. Wayne har en lång karriär bakom sig som lett honom dit han är i dag och mycket kan sägas om denne musiklegend, men mångsidig är han.
2018 ger sig Wayne ut på en turné runtom i världen i samband med att han också firar sin 60-årsdag där han spelar på ett antal väl utvalda platser. Ett av dessa framträdanden blir i Sverige och på Uma Obscura-festivalen, den 28 april!
Wayne kommer bjuda på ett soloframträdande och vanligtvis ingår både egna och klassiska Mission-låtar i repertoaren, men även covers och kanske helt nya låtar.
Konserten på Uma Obscura presenteras i samarbete med RTSI.
More about Wayne:
www.themissionuk.com