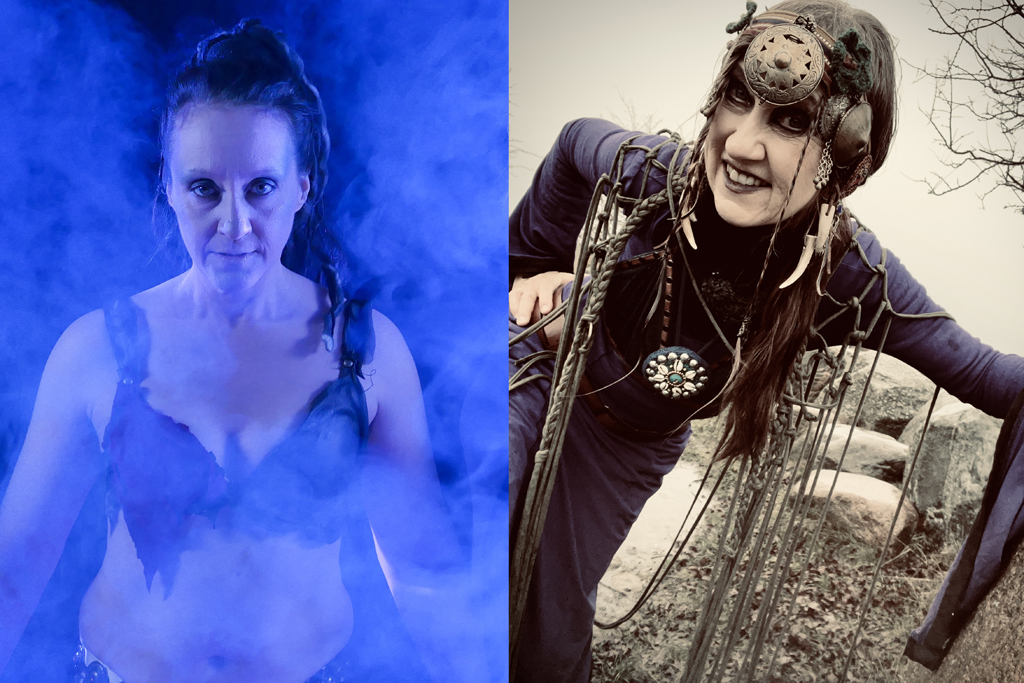 – Transformation, Awakening, Changing to something better
"Wild is the World, time of hacking, time of armies, time of wind, time of the wolf
The Sun blackens, the brigth stars in the sky go dark
But then she sees for the second time, the Earth rising from the sea"
(text extract from Völuspá in English, composed and translated by Dud Muurmand)
With great inspiration from the Norse Mythology and the ancient text of "Vôluspá" / Vølvens spådom. This project wants to tell the story of man's connection to Nature thru times, our exploitations of its beauty and resources, but also to give hope for the future – all thru the merge of fusion dance and theatre.
Behind the project are two profiles from the alternative dance scene. Madeleine Holmlund and Dud Muurmand have both been part of the Scandinavian dark fusion community for many years. Having mutual artistic interests in themes on Norse history and mythology, it was only a matter of time before this project would materialize.
Dud Muurmand is a Dark Fusion dance artist from Denmark, Dud has worked professionally in dance for 30 years and most of this time also within theatrical fusion/dark fusion. She has been teaching classes in Copenhagen as well as workshops internationally – and past 5 years also online via her own Patreon forum. Her online classes also include dance projects where the dancers can work together with Dud on the processes of creating dramatic, storytelling dance pieces with also theoretical source inputs from history, mythology, fiction work and other artistic interpretations. The latest project "The Vølve-project" from spring 2023 has so far resulted in a video/zoom-performance – and will now also be presented on stage in Uma Obscura with a group of dancers from Dud's Patreon forum.
Madeleine Holmlund aka krAaFusion, has in various constellations been part of Sweden's Dark Fusion scene since 2009 both as a dancer and artistic director of the dance scenes of Uma Obscura and Alternativfesten Sandviken . She is part of the management teamof Dark Dance Society- Network for the development of subcultural dance within SUB- National Association of Subculture. In 2018, she created the artistic project krAaFusion with the aim of creating dance in her own way based on the different styles within Fusion Bellydance. As part of the exploration of her dance vocabulary, Madeleine, through krAaFusion, takes the dance movements a step further into an organic reality. The dynamic blurs the boundaries between choreography and improvisation and finds its way to new encounters and collaborations. Madeleine has also been one of Dud's patreon students since 2018.
************************
Daga-R
– Förvandling, uppvaknande, förändring till något bättre
"Hårt är i världen, yxtid, klingtid, vindålder, vargålder. Solen börjar svartna, från fästet falla flammande stjärnor. Upp ser hon komma för andra gången jorden ur havet."
"Vildt lever Verden, hugtid, hærtid, vindtid, ulvtid. Solen sortner, de lyse stjerner slukkes på himlen; Men da ser hun for anden gang Jorden komme op af havet."
(Textutdrag from Völuspá på danska och svenska sammansatt av Dud Muurmand)
Projektbeskrivning
Detta samarbete var nog skrivet i stjärnorna: Madeleine och Dud har varit en del av den skandinaviska Dark Fusion gemenskapen i många år och med ömsesidigt konstnärligt intresse för teman kring nordisk historia och mytologi var det bara en tidsfråga innan detta projekt skulle förverkligas. Med inspiration från den nordiska mytologin och den uråldriga texten "Vôluspá" / Vølvens spådom berättas historien om människans koppling till naturen genom tiderna, om människans sätt att utnytjta dess skönhet och resurser, men också för att ge hopp för framtiden – allt sammanvävt med teatralisk fusiondans.
Dud Muurmand, Dark Fusion dansartist från Danmark. Dud har arbetat professionellt med dans i 30 år och för det mesta även inom teatralisk fusion/dark fusion. Hon har undervisat i Köpenhamn och internationellt. Sedan 2018 har hon även undervisat online via sitt eget Patreon-forum. Hennes onlinekurser erbjuder inte bara danskurser utan även dansprojekt, där dansarna kan arbeta tillsammans med Dud kring processerna för att skapa dramatiska och berättande dansstycken. Processen innefattar även teoretiska genomgångar av historia, mytologi, skönlitterärt arbete och andra konstnärliga tolkningar. Det senaste projektet "The Vølve-project" från våren 2023 har tidigare resulterat i ett onlineperformance och nu kommer det att presenteras på scen under Uma Obscura, framfört tillsammans med en grupp dansare från Duds Patreon-forum.
Madeleine Holmlund aka krAaFusion, har i olika konstellationer varit en del av Sveriges Dark Fusion scen sen 2009 både som dansare och konstnärlig ledare för Dance Obscura och Alternativfestens Sandviken dansscen. Är en del av ledargruppen för för Dark Dance Society- Nätverket för utveckling av subkulturell dans inom SUB – Riksförbundet För Subkultur. 2018 skapade hon en artistisk plattform krAaFusion med syfte att utifrån de olika stilarna inom Fusion Bellydance skapa dans på sitt eget vis. Madeleine har även sen 2018 varit en av Duds patreonelever. Som ett led i utforskandet av sitt dansvokabulär tar Madeleine, genom krAaFusion, dansrörelserna ett steg vidare in i en organisk verklighet. Dynamiken suddar ut gränserna mellan koreografi och improvisation och söker sig till olika former av möten. Möten med hennes inre värld av tankar och känslor, möten med andra konstformer och möten med andra dansare och artister.