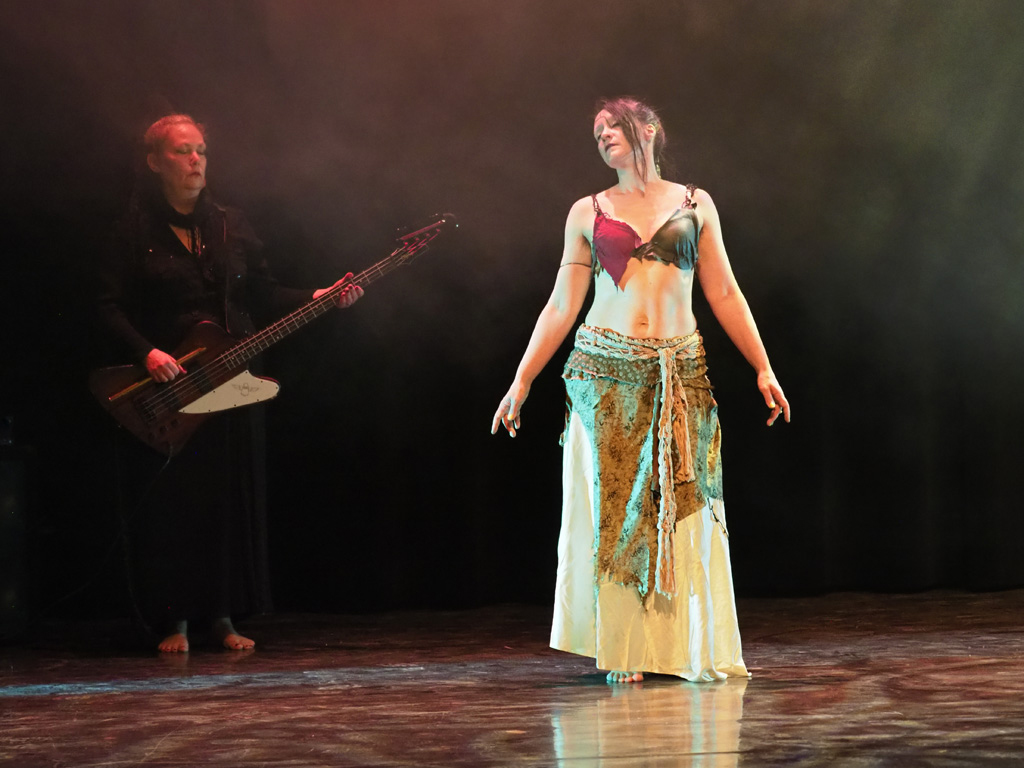 krAaFusion & Marlen Sunna & Caroline Landberg present
HÖSTBLOT
Longings of undead souls
Madeleine Holmlund and Marlen Sunna presented their first project Vårblot at Dance Obscura in the spring of 2018. Now the sequel Höstblot is coming up and Caroline Landberg -poet and storyteller -was invited to participate.
krAaFusion is the new artistic project of Madeleine Holmlund under development. It was born in a desire, based on her dance background in Oriental dance, different styles in Tribal fusion bellydance and ATS, to express motion and create dance in her own way. krAa is her artistic inspiration and freedom. Madeleine is originally from Umeå but has now settled in Uppland since 2017. She was one of the creators of the dance group Morganas döttrar and was a member of the dance groups Midnattssol and Misty Moon until 2017. As a member of the Cultural Association Kretsen in Umeå, Madeleine has been part of the development and artistic director of the dance scene at Uma Obscura – Dance Obscura and its predecessor Sunset Park Festival – Dance in the shadows
marlen sunna has a past as a bassist in Bazooka! from Gothenburg. The band gained great success during the 90's. Bazooka! was most famous for its energy-filled gigs and was one of the most hardcore, powerful Swedish "all-girl" bands. Marlen Sunna has also worked as a stage technician and has a 30-year career as a bassist. She has participated in workshops in SU EN Butoh Method at Haglund School and during that time participated in the dance performance project Voracious, choreographed by SU EN, 2015, 2016. Today she plays bass in two bands, including Loudmouth from Falun.
Caroline Landberg is a storyteller, poet and content producer based in Stockholm but with roots in Umeå. Ever since she was a small kid she has created stories and as soon as she learned how to write she started to explore poetry and the narrative world. Carolines primary focus is to create stories where words, visual expressions, music and sound merge together. The ambition is to work in collaboration with other artists and let the texts emphasize the experience of a story that is created by several influences. Höstblot became the perfect choice where Carolines texts are one of the narrative elements.
Dance and choreography: krAaFusion/Madeleine Holmlund
Soundscape and bass: Marlen Sunna
Text and voice: Caroline Landberg
krAaFusion & Marlen Sunna & Caroline Landberg presenterar
HÖSTBLOT
Longings of undead souls
Madeleine Holmlund och Marlen Sunna gjorde sitt första gemensamma projekt Vårblot som presenteras på Dance Obscura våren 2018. Nu kommer uppföljaren Höstblot där Caroline Landberg -poet och storyteller- bjudits in att medverka.
krAa fusion är Madeleine Holmlunds nystartade konstnärliga plattform som är under utveckling. Detta föddes i en längtan att utifrån Madeleines dansbakgrund inom orientalisk dans, olika stilar i tribal fusion bellydance och ATS få uttycka rörelse och skapa dans på sitt vis. krAa är hennes konstnärliga inspiration och frihet.
Madeleine är ursprungligen från Umeå, nu bosatt i Uppland sedan 2017. Hon var en av skaparna av dansgruppen Morganas döttrar och var medlem i dansgrupperna Midnattssol och Misty Moon fram till 2017. Under de tre senaste åren har Madeleine även deltagit i workshops i SU EN Butoh Method på Haglund skola och under den tiden även deltagit i dansföreställningsprojektet Voracious koreograferat av SU EN 2015, 2016 och 2017,
Som medlem i kulturföreningen Kretsen i Umeå har Madeleine varit en del av utvecklandet och konstnärlig ledare för dansscenen på Uma Obscura – Dance Obscura och dess föregångare Sunset park festival – Dans i gränslandet. Hon har tagit med sig passionen för alternativkultur till Uppland och har varit med och bildat Kulturföreningen Roslagskretsen under våren 2018. Föreningen är medlem i SUB-Riksförbundet för subkultur.
marlen sunna har ett förflutet som basist i det Göteborgsbaserade bandet Bazooka! Bandet rönte stora framgångar under 90-talet. Bazooka! var mest kända för sina energifyllda spelningar och var ett av de mest hårda, kraftfulla, svenska "all-girl"-banden.
Marlen har även arbetat som scentekniker och har en 30-årig karriär som basist. Hon har deltagit i workshops i SU EN Butoh Method på Haglund skola och under den tiden även deltagit i dansföreställnings- projektet Voracious, koreograferat av SU EN, 2015, 2016. Idag spelar hon bas i två band bland annat Loudmouth från Falun.
caroline landberg är en storyteller, poet och innehållsproducent baserad i Stockholm men med rötterna i Umeå. Ända sedan hon var liten har hon berättat historier och så snart hon lärde sig att skriva, började hon utforska poesi och de skrivna berättelsernas värld. Carolines primära fokus är att skapa historier där ord, visuella uttryck, musik och ljud vävs samman. Ambitionen är att i samarbete med andra artister jobba med texter som kan förstärka upplevelsen av en berättelse som skapas med flera influenser. Höstblot blev därför det perfekta valet av samarbete där Carolines texter är ett av de berättande elementen.
Dans och koreografi: krAaFusion/Madeleine Holmlund
Soundscape och bas: Marlen Sunna
Text och röst: Caroline Landberg