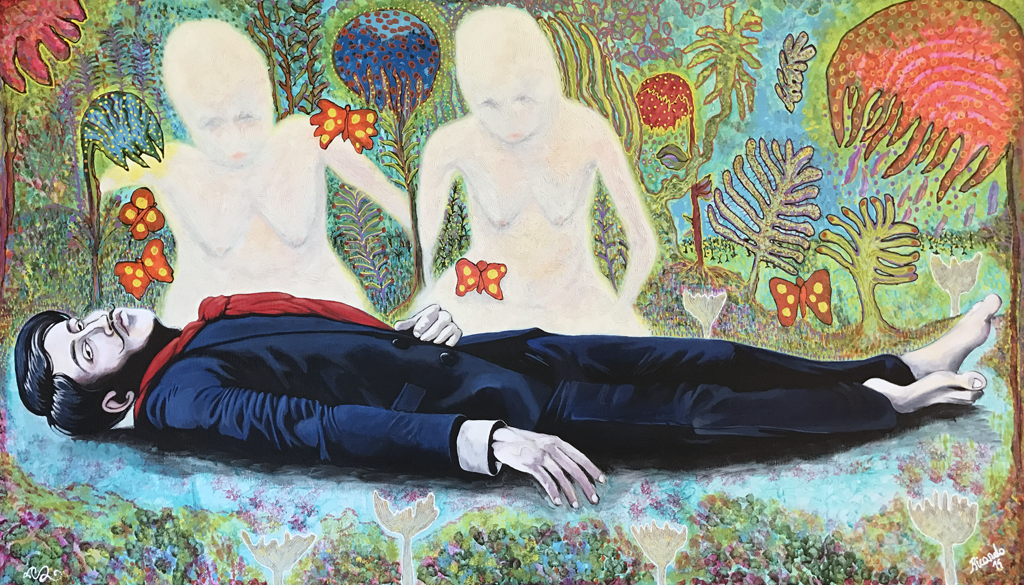 Roger and Ricardo met through work, where they became friends the very first day. Amongst many shared interests they both love art and creativity. They started painting together and shortly thereafter built a studio in Ricardos apartment. As an experiment they tried painting on the same canvas. The idea was simple, start on one canvas each then finish the other ones painting. The result was very exciting and paved the way for an interesting collaboration still going on today, many years later.
Their work is about contrasts in life, dreams and thoughts about existence, psychology and loneliness. The pictures are bizarre and beautiful and awaken thoughts and questions in the viewer. Despite, or perhaps thanks to their totally different techniques as well as style to paint, the art that transpires is very unique. They're called R & R
Roger och Ricardo lärde känna varandra på arbetsplatsen där de blev vänner redan första dagen. Bland många gemensamma intressen fans konsten och kreativiteten. De började snart måla tillsammans och efter en kort tid byggde de en studio i Ricardos lägenhet. Som ett litet experiment testade de att måla två tavlor som en kollaboration. Idén var simpel. Börja på varsin duk, sedan färdigställa den andres. Resultaten blev mycket spännande och banade vägen för ett intressant samarbete som pågår än idag, många år senare.
Verken handlar om kontraster i livet, drömmar och tankar kring existens, psykologi och ensamhet. Bilderna är bisarra och vackra och har förmåga att väcka tankar och ifrågasättande hos betraktaren. Trots, eller kanske tack vare deras totalt olika teknik samt stil att måla, blir deras konst väldigt unik och bildspråket eget. De kallas R & R