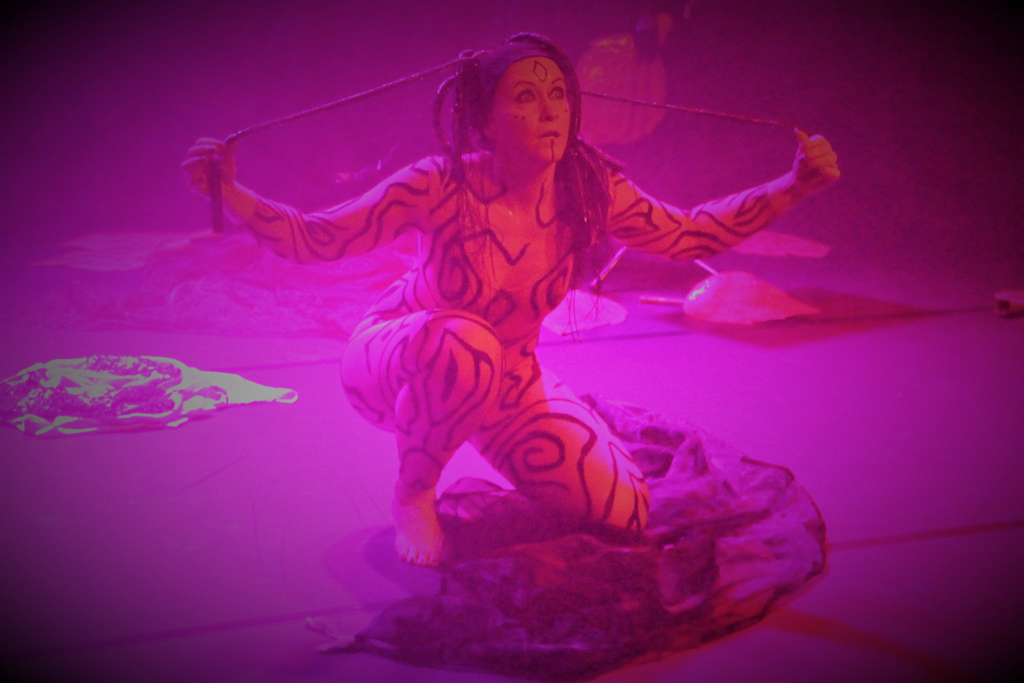 krAaFusion is a dynamic artistic project of Madeleine Holmlund. As a dancer in different styles of Tribal Fusion and Tribal Style Bellydance, krAa is her artistic inspiration and freedom to create dance in her own way. Through krAaFusion Madeleines explore her dance vocabulary by taking the dance movements a step further into an organic reality. The dynamics blur the boundaries between choreography and improvisation. During 2018 this was embodied in two collaborations, Vårblot and Höstblot.
Madeleine is originally from Umeå but has now settled in Uppland since 2017. She was one of the creators of the dance group Morganas döttrar and was a member of the dance groups Midnattssol and Misty Moon until 2017. She is currently also a student in a Special Training Programme in SU EN Butoh method which include taking part as a student i dance projects choreographed by SU EN – Voracious, Light/ Dark and in April 2019 IKI at Dansens Hus Stockholm.
As a member of the cultural association KF Kretsen in Umeå, Madeleine has been part of the development and artistic director of the dance scene at Uma Obscura – Dance Obscura – and its predecessor Sunset Park Festival – Dance in the shadows.
This year she will take part in an improvised collaboration with the Dark Ambient artist Oestergaards: "A barren and wet darkness, an expectant and redemptive riot, an improvised dystopian landscape infused in a dancer's body."
****************
krAa fusion är Madeleine Holmlunds konstnärliga plattform som är under ständig utveckling. Som dansare i olika stilar inom Tribal Fusion och Tribal Style Bellydance är krAa en inspiration och frihet att skapa dans på sitt eget vis. Som ett led i utforskandet av sin dansvokabulär tar Madeleine, genom krAaFusion, dansrörelserna ett steg vidare in i en organisk verklighet. Dynamiken suddar ut gränserna mellan koreografi och improvisation.
Under 2018 tog sig detta form i samarbetsprojekten Vårblot och Höstblot. Madeleine är ursprungligen från Umeå, nu bosatt i Uppland sedan 2017. Hon var en av skaparna av dansgruppen Morganas döttrar och var medlem i dansgrupperna Midnattssol och Misty Moon fram till 2017. Under mer än fyra år har Madeleine även deltagit i workshops och nu Special Training Programme i SU EN Butoh Method på Haglund skola. Hon har som student varit inbjuden att delta i dansföreställningsprojekt koreograferade av SU EN såsom Voracious och Ljus/Mörker samt kommer under våren 2019 delta i föreställningen IKI på Dansens Hus.
Som medlem i Kulturföreningen Kretsen i Umeå har Madeleine varit en del av utvecklandet och agerat konstnärlig ledare för dansscenen på Uma Obscura – Dance Obscura – och dess föregångare Sunset Park Festival – Dans i gränslandet. Hon har tagit med sig passionen för alternativkultur till Uppland och har varit med och bildat Kulturföreningen Roslagskretsen, en medlemsförening i SUB – Riksförbundet För Subkultur.
I år kastar hon sig ut i ett improviserat samarbete med Oestergaards: "Ett brått och vått mörker, ett förväntat och återlösande upplopp, ett improviserat dystopiskt landskap ingjutet i en dansares kropp."