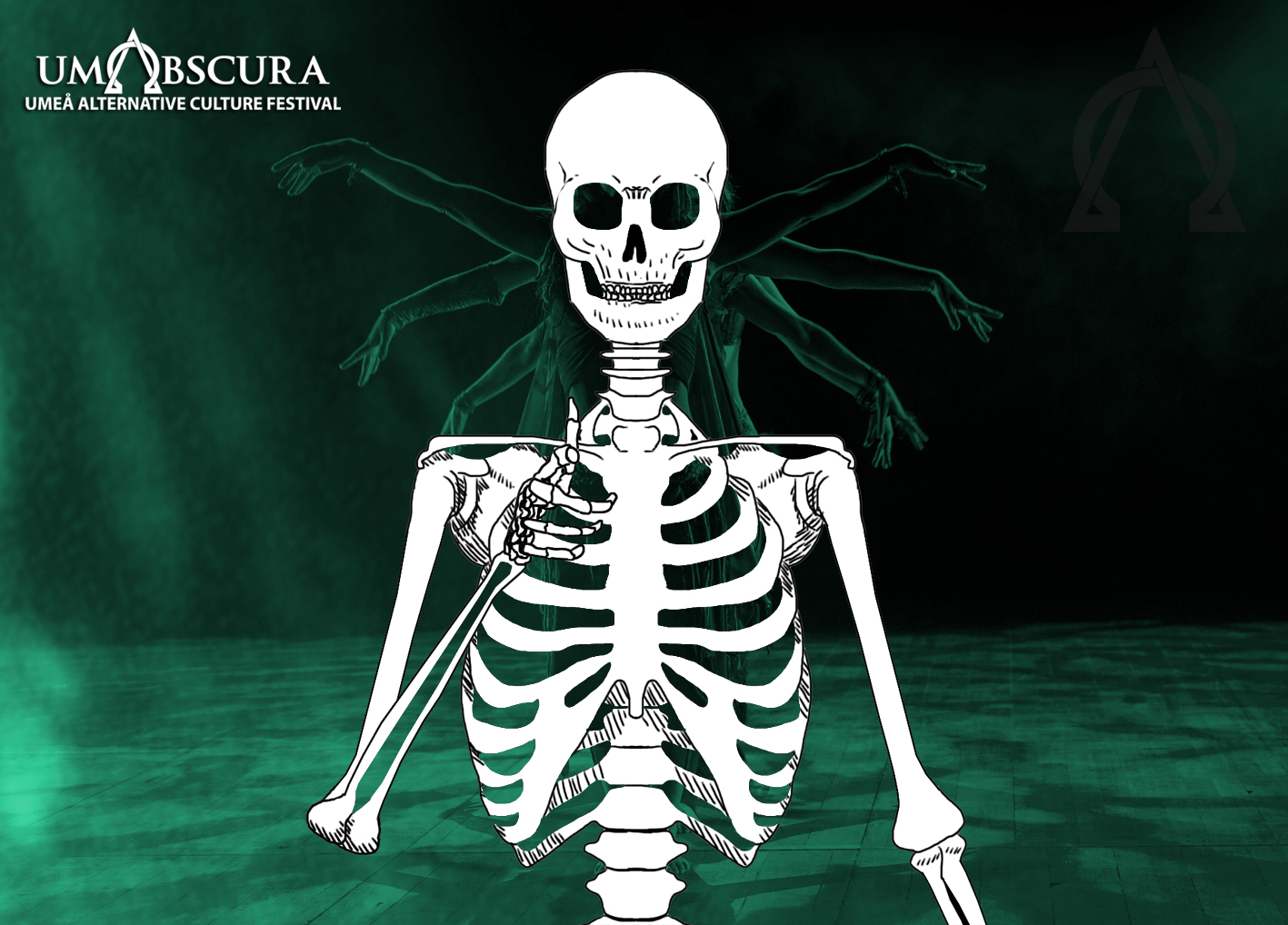 Art Exhibition: You Are Not Alone
A skeleton is the innermost essence of a human. It is what remains when skin and flesh have wilted. Apart from a greater number of lesser deviances and a lesser number of greater deviances our skeletons are identical, a pure portrait of a human regardless of any other circumstances.
Sadly, humans do not treat each other as if we are derived from the same bones. The RTSI-initiative (Right To Subcultural Identity) has only just begun to shine a light on the discrimination against subcultural people. In the art exhibition You Are Not Alone, subcultural artists have created variations on a skeleton, drawn by Hanna Rindeskog, with inspiration from alternative fashion that they either wear or admire. One skeleton has thus become many. At Uma Obscura we are proud to provide these skeletons with a space in which they can assemble and tell each other: You Are Not Alone.
Participating artists: TBA
Art Exhibition You Are Not Alone is presented by the RTSI-initiative in cooperation with Konstföreningen Avgrunden.
____________________________________________________
Konstutställningen You Are Not Alone
Skelettet är människans innersta väsen, det som kvarstår när hud och kött tynar bort. Frånsett ett större antal smärre avvikelser och ett smärre antal större avvikelser är våra skelett identiska, en ren avbildning av en människa oavsett dess övriga förutsättningar.
Tyvärr behandlar inte människor varandra som om vi kom från samma benvävnad. RTSI-initiativet (Rätten Till Subkulturell Identitet) har börjat belysa frågan om diskrimineringen som sker mot de subkulturella. I konstutställningen You Are Not Alone har subkulturella konstnärer tolkat ett skelett, tecknat av Hanna Rindeskog, med inspiration från alternativa stilar som de beundrar eller själva har. Ett skelett har på så sätt blivit flera. På Uma Obscura är vi stolta över att ge dessa skelett ett rum för att samlas och säga varandra: Du är inte ensam.
Medverkande konstnärer: presenteras senare.
Konstutställningen You Are Not Alone presenteras av RTSI-initiativet i samarbete med Konstföreningen Avgrunden.
facebook.com/Konstföreningen-Avgrunden-340857983040587/
www.rtsi.se