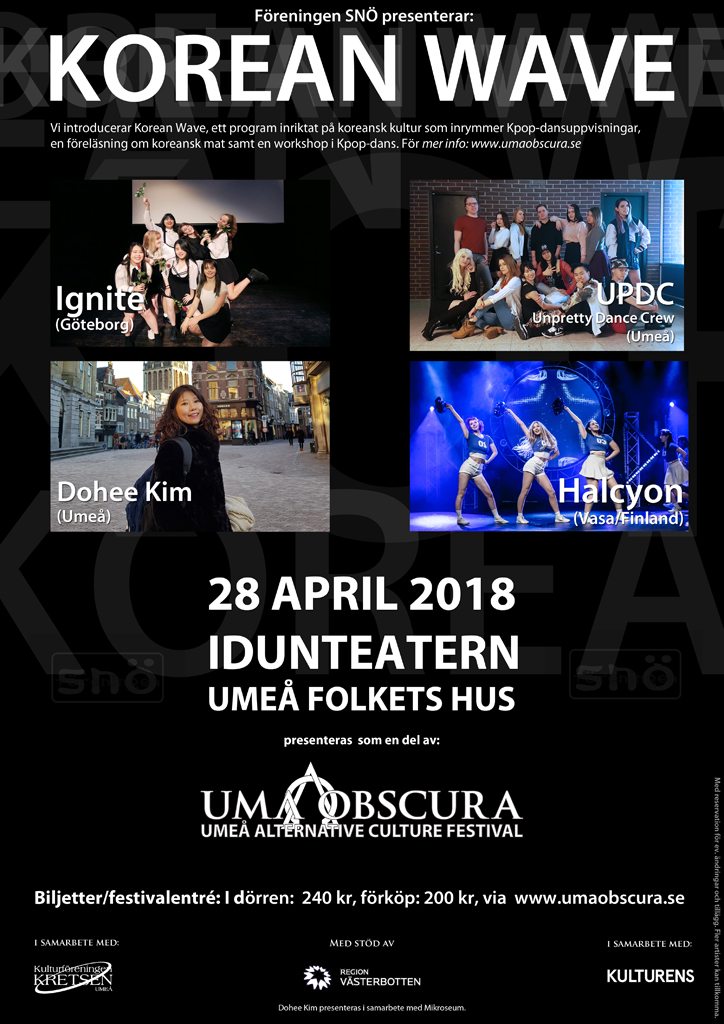 Föreningen SNÖ and Unpretty Dance Crew (UPDC) introduces Korean wave, a program focused on Korean culture which includes Kpop dance performance at Idun, a lecture about Korean food and a Kpop dance workshop.
Participating acts are the dance groups UPDC, Halcyon (FI) and Ignite as well as the lecturer Dohee Kim.
The program is arranged by Föreningen SNÖ. Parts of the content is made with support from Region Västerbotten and Kulturens Bildningsverksamhet.
____________________________________
Föreningen SNÖ och Unpretty Dance Crew introducerar Korean Wave, ett program inriktat på koreansk kultur som inrymmer Kpop-dansuppvisning i Idun, föreläsning om koreansk mat samt workshop i Kpop-dans.
Medverkande akter är dansgrupperna UPDC, Halcyon (FI) och Ignite samt föreläsaren Dohee Kim.
Programmet arrangeras av Föreningen SNÖ. Delar av innehållet genomförs med stöd från Region Västerbotten samt Kulturens Bildningsverksamhet.